One of the many things I love about this time of year is the proliferation of all things spooky. The darker nights lend themselves to creating the perfect atmosphere - light some candles, stoke up the fire and off you go.
As a child I devoured ghostly tales. Usually they were compilations of short stories - read under the sheets with a torch - they were just enough to scare me into not wanting to go to the bathroom on my own! I remember 'The Waxwork' about a man who took up a dare to stay overnight in a wax museum, and 'The Doll's House' with it's slightly too realistic inhabitants. Later on I delved into some Edgar Allan Poe and M.R. James but it wasn't until I found 'The Woman in Black' a few years ago that I was able to revisit those early feelings of being genuinely spooked.
Of course this was also the heyday of Hammer Horror films. Each Friday night we would settle to watch Peter Cushing fight off some demonic beast whilst amply bosomed ladies wilted in the background.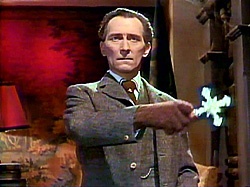 Tales of the Unexpected provided more fuel - the hypnotic title music was often the best part - but it was relished nonetheless (the man who turned into a bee, the wife who 'tidied' her fastidious husband away into his own filing system of screw topped jars).
Several years ago the BBC ran a series of ghost stories running up to Christmas and each one was a treat. If you have never seen the Michael Hordern adaptation of Whistle and I'll Come to You it's a must see. Alongside Dicken's The Signalman. Both call for a nip of brandy to steady the nerves afterwards!
So - have I ever seen a ghost?
For many years I thought I had. At the age of six I woke in the dead of night to go to the bathroom. The door was directly opposite my bedroom and only a few steps away. Alongside the landing was a banister - the solid type that was popular in the 1970's. At the end it opened out on to a smaller landing at the top of the stairs with a window that allowed in the natural light. As I passed this section I froze. Standing in front of me was a young girl. She had a short silver coloured bob and was wearing no shoes. Her sleeveless mint green dress had no sleeves and a pocket with a large white daisy on it. I screamed and to this day remember how long it seemed to take for me to get back to the safety of my own bed and under the covers. Mum and dad were so convinced that someone must have been in the house that they searched high and low but, of course, found nothing. This mystery stayed with me until fairly recently. Watching one of these nostalgic 'let's remember all the kid's shows we grew up with programmes' there - alongside Mr Benn and The Clangers -was my ghost. Frustratingly I can't now remember the name of the character but she was a young girl who used to press the daisy on her pocket to grant a wish. Her clothes and hair were exactly the same as I remembered. I'm pretty sure the hairs must have stood up all the way down to my toes. After all these years the mystery of the girl on the landing was solved. So why even now, sitting in my sunny kitchen with a fresh coffee and Mr K's home made tea loaf, do I still feel a bit shivery?
Mum also has a ghostly tale. When she was three she had a particularly nasty bout of chicken pox. She was tucked up on the old sofa which was pushed up against the window. Outside the snow was falling but through the blur she saw a lady standing on the garden wall. The lady looked down at her and was smiling. Mum called her Grandma over and asked her to look. Of course her Grandma could see nothing so mum went on to describe a young lady with short dark hair and kind eyes. Grandma said nothing. Later on mum discovered that the lady she had been describing was in one of the family pictures - it was in fact her own mum who had died two years previously from tuberculosis. A combination of fever, memory and the hypnotic swirl of the snow - or was it something more?
Grandma Irene - looking after her poorly daughter?
There are many other tales. A close friend tells of hearing his dad having conversations late at night with his Grandad who had died several years before. Mr K once though that his glow-in-the-dark mummy was growing and chased him out of his bedroom!
Do I still believe in ghosts? Not really. I believe our mind and imagination are incredible things and given the right conditions they will produce experiences that we have no other explanation for. So why is it that I still see things out of the corner of my eye, still imagine that that pile of clothes could be a figure and still have to - on occasion - ask Mr K to accompany me to the bathroom in the middle of the night?
I think there's someone behind you!
Jane
x